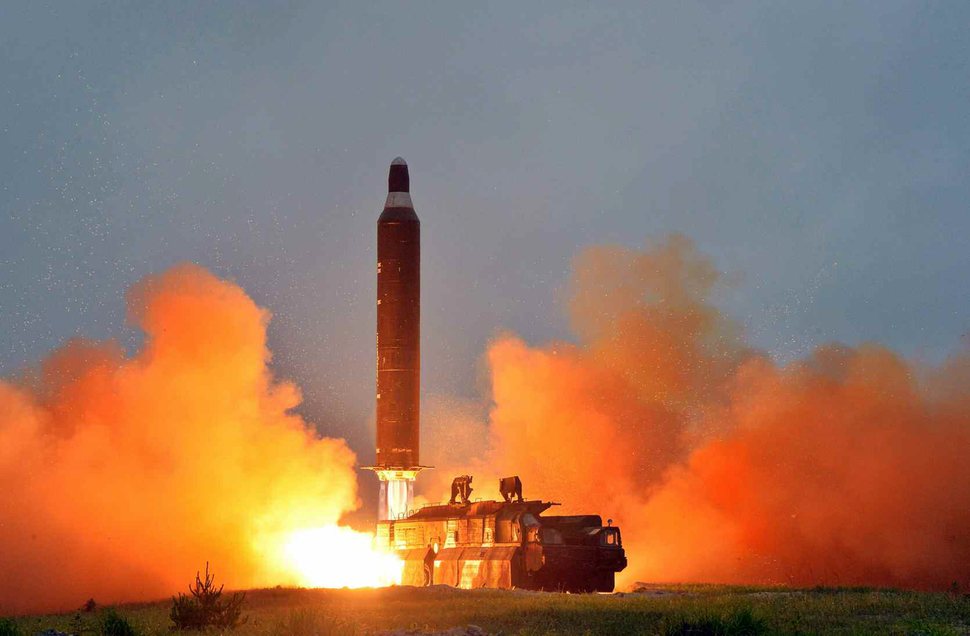 An image from the June 23 Rodong Sinmun newspaper of the launch of a Musudan missile. The newspaper reported that North Korean leader Kim Jong-un provided on-site instruction. (Yonhap News)
Defense Minister not sure if THAAD missile defense system could successfully intercept a Musudan
If the "Hwasong-10 surface-to-surface intermediate-range strategic ballistic rocket" (presumed to be the Musudan missile) that North Korea claims to have successfully test-launched were launched on a standard trajectory instead of at a high angle, its maximum travel distance would be 3,500km, South Korean military analysts have concluded. This would place the American base on the Pacific island of Guam within striking distance.
"The Musudan missile that North Korea launched had a maximum elevation of 1,400km, and our simulation suggests that it has a maximum range of 3,500km," a South Korean military officer said on June 24.
"Based on the simulation data, when the Musudan missile [that North Korea fired on June 22] left and then reentered the earth's atmosphere, it had a maximum falling velocity between Mach 15 and 17," the military official said.
If this is true, the missile probably could not be shot down by the South Korean military's PAC-2 Patriot missiles or the US military's upgraded PAC-3 Patriot missiles. Though the PAC-3 has better performance than the PAC, it reportedly only flies at a speed of Mach 3.5 and 5.
When reporters covering South Korea's Defense Ministry asked Defense Minister Han Min-koo during a luncheon whether the THAAD (Terminal High Altitude Area Defense) anti-ballistic missile system could shoot down a Musudan missile, Han said, "That's something we will need to confirm."
"My understanding is that THAAD is generally thought to be capable [of interception]," Han said.
"THAAD can intercept enemy missiles that are flying up to a speed of Mach 14 or 15. If North Korea fires a Musudan at a high angle, it's speed would be such that THAAD could shoot it down within THAAD's interception range [of 40 to 150km]," a senior military officer said.
Debate about THAAD is expected to intensify now that North Korea's claim to have succeeded at the test launch of the missile appears to be lending support to arguments for deploying the missile defense system on the Korean Peninsula.
On June 23, the UN Security Council issued a press release in which it described North Korea's missile launch to be a "grave violation" of Security Council resolutions. The Security Council "strongly condemned" the launch and promised to "take further significant measures."
Security Council members also "expressed their commitment to a peaceful, diplomatic and political solution to the situation and welcomed efforts by Council members, as well as other States to facilitate a peaceful and comprehensive solution through dialogue."
By Lee Je-hun, staff reporter
Please direct questions or comments to [english@hani.co.kr]